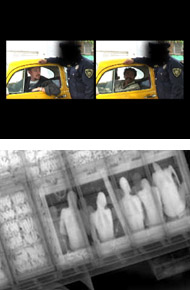 Surveying the Border
Thursday, Sept 29, 7:30 p.m.
This 90-minute program presents some of the best short video works made by artists since the mid-1970s that take the relation between the United States and Mexico as their subject matter, including conceptual and performance art, experimental documentary, short fiction, and music video.
After-Screening Discussion between artists
Ximena Cuevas
, Andrew Lampert, and
Rubén Ortiz Torres
moderated by Rita Gonzalez, assistant curator at the Center for Art of the Americas at LACMA.
Harold M. Williams Auditorium,
the Getty Center
Reservations required. Call (310) 440-7300 or
Click here