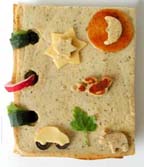 Saturday, April 1, 2006 from 2 p.m. to 4:30 p.m
ART YOU CAN EAT!"
The Edible Book Tea Party combines the creative and culinary talents of many of the Southland's preeminent book artists, book lovers, chefs, food lovers and children who will be transforming fantasies of literature into a feast for the eyes and palate.
The Los Angeles Book Arts Center
Kings Road Park, 1000 Kings Road, West Hollywood.