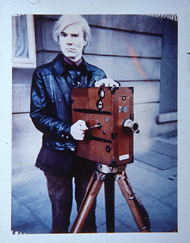 Between Sleep and Dreams: Warhol Under the Stars
Saturday, October 8, noon–10:00 p.m.
This daylong event kicks off with a screening of Warhol's first fully completed film, the five-and-a-half-hour
Sleep
(1963).
The program continues with seldom-seen
Screen Tests
(1964–1966) and a panel discussion featuring Warhol collaborators. Also a reception and outdoor screening of
Sunset
(1967), a meditation on Los Angeles at dusk with a soundtrack of Nico reading a poem. The evening concludes with further Screen Tests in the Courtyard, with by music from New York
DJ Adam Dorn
(alias Mocean Worker). Food and drink will be available.
Harold M. Williams Auditorium and Museum Courtyard,
Getty Center